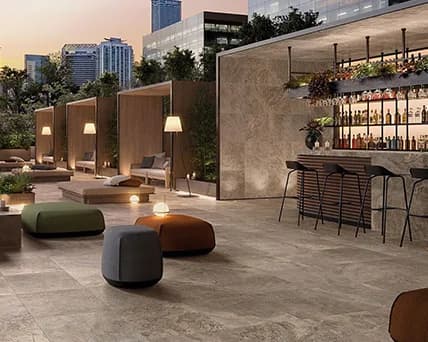 Outdoor Porcelain Pavers
Our 2CM-thick porcelain pavers create stunning visual landscapes that weather the great outdoors and high traffic with their multiple stone, concrete, and wood looks. Shop All Pavers
The Tilebar Difference
Built to last

Our 2CM Outdoor Porcelain Pavers are twice as thick as a typical porcelain tile and are built to withstand harsh weather and heavy traffic. With multiple installation options, you can take your favorite TileBar looks to the great outdoors.

WeatherResistant

Thicker & More Durable

Slip Resistant Texture

Multiple Install Options

Multiple Installation Options

These Outdoor Porcelain Pavers can go anywhere thanks to their 2CM thickness and durable porcelain construction. From dry installation on grass, gravel, and sand, traditional thick-set mortar installation, and even a raised pedestal installation, these pavers are a versatile solution for every outdoor space. Download installation instructions.