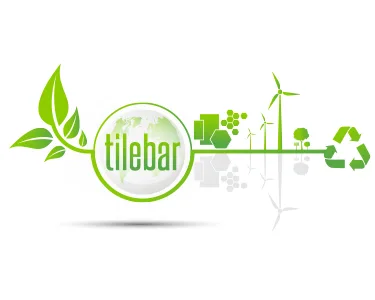 Sustainability
TileBar is committed to providing products and resources to help LEED credit contribution, recycled content, and sustainable sourcing – from design to manufacturing and beyond. Explore the best of design and sustainability and see how our American-made luxury tiles are making a difference closer to home. Shop Sustainable Tiles
Go Green: Choose Sustainable Tile
Our Commitment

At TileBar we believe in preserving our planet for the generations to come, and we're committed to sustainability in everything we do. We offer natural, durable products that are eco-friendly—from sourcing to manufacturing and beyond. Tile lasts a very long time, so it saves resources over the life of an installation and diverts excess waste away from landfills. Many of our tiles are made of recycled materials such as recycled glass tiles, and our porcelain collections are among the most sustainable tiles you can buy.

Our Green Achievements

We give special treatment to green projects with environmentally friendly incentives; they move directly to the top of our In Box. The building certification program known as LEED (Leadership in Energy and Environmental Design) is the global gold standard in green building rating systems. We're committed to offering a wide selection of tiles that contribute to a building's LEED certification. Explore recycled collections like Swim or find your new favorite 100% recyclable Luxury Vinyl Tile collections like Katone glue-down LVT or Optoro Rigid Core Click LVT.

Our Principles at Home

We do business around this world we share, but we buy American whenever we can. Our US-based companies can be counted on for quality assurance, a low carbon footprint, the use of non-toxic materials, up-to-date manufacturing processes (including recycling), and shorter delivery times. Plus, buying luxury tiles manufactured at home is not only environmentally responsible; it also helps support the U.S economy. Explore these USA-Made products that may contribute to LEED credits by keeping product manufacturing close to home.