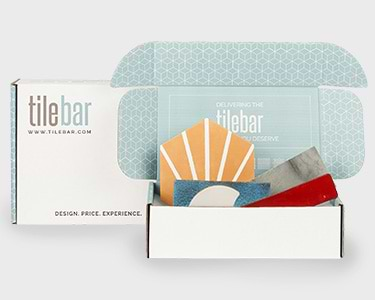 Get 5 Samples For $5
Samples are the best way to get the look and the color you want. Click "Order Sample" for 5 of your favorite tiles and only pay $1 per sample + free shipping. Note: To qualify, order samples for 5 different tiles. Discount automatically applied in checkout.
3 Easy Steps

Browse 6,000+ tiles

Shop our selection of 6,000 gorgeous, ready-to-ship tiles

Click Order Sample

Add samples for any 5 tiles to cart
(note: 1 sample per tile)

Checkout

Get samples for $1 each + free shipping (discount automatically applied)

Inspiration For Elegant Tile Design

Ways to Shop

Why Order Tilebar Samples

"
Delivery was fast and samples are sized so that you can see the pattern. TileBar is the best tile store I have come across. Samples and tiles are really well made and well packaged.

"

- Lila B.

"
Samples came very quickly from TileBar. It is my second round of ordering samples, my experience with TileBar has been very good, and I am looking forward to working with them in the future.

"

- Trisha

"
Unsure of which color palette to go with, I ordered several tile samples. They came packaged on time and neatly with labels on each, making it easier to visualize. Their samples are good size and tile is quality.

"

- Tom W.